Why You Should Go Hiking With a Hammock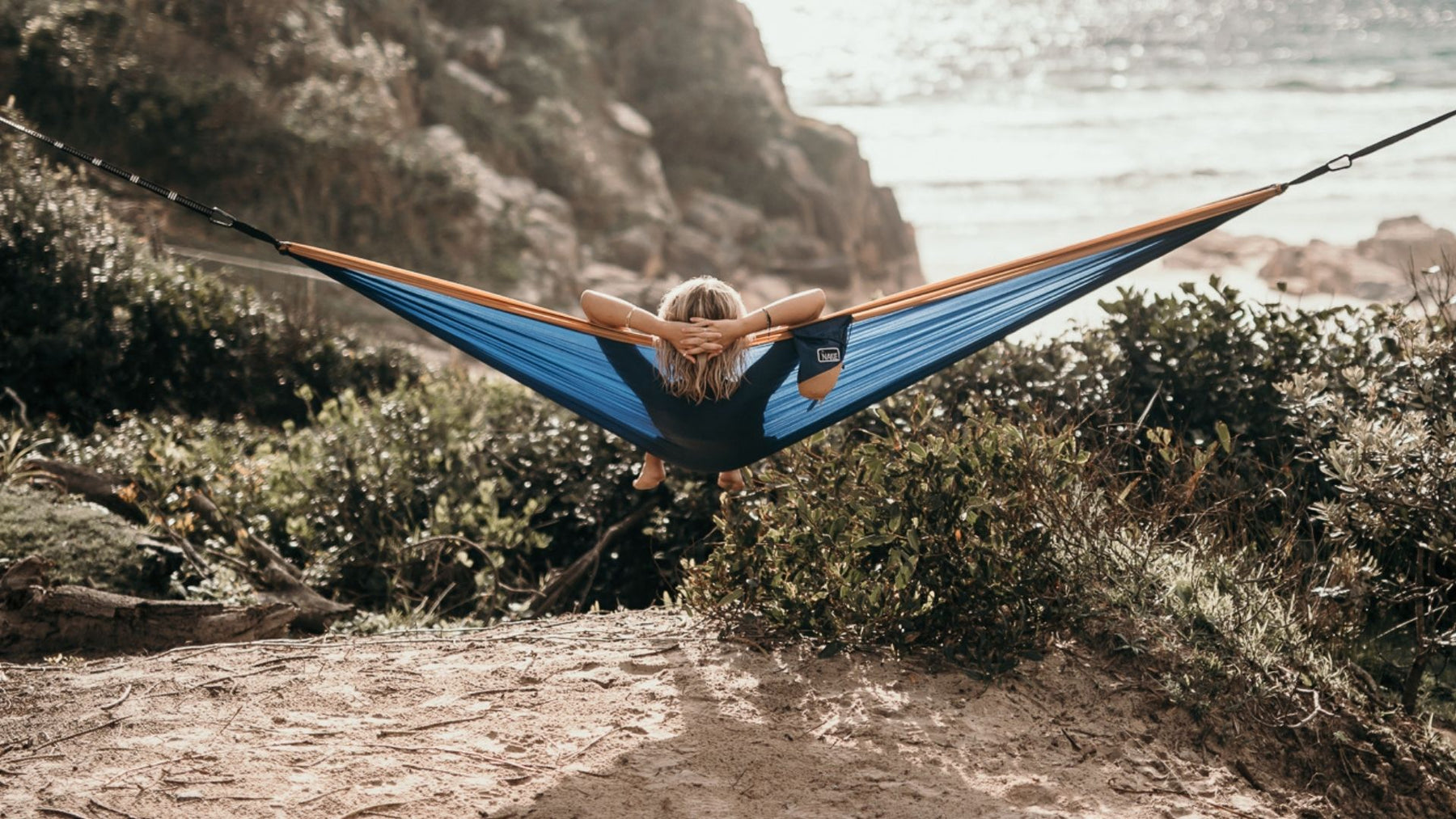 By Daniel Piggott
The Nakie hammock should be at the top of your gear list when it comes to hiking.
Maybe you haven't taken a hammock hiking before or even considered it. Well, there's no better way to enjoy the glorious scenery of your hike, than by soaking in the natural surrounds from your hammock. Better yet, the Nakie hammock has the perfect specs to make it the hammock of choice for single-day and multi-day hiking.
So let's get into the nitty gritty of why you need this hammock on all of your hiking adventures.
Nakie is the perfect hammock for hiking
Lightweight, compact and small – the Nakie hammock is the ideal hammock for hiking.
There's no need to fret that this hammock will weigh you down. In total, the hammock, straps and carabiners weigh an impressive 988 grams, so you'll hardly notice them in your bag. Having light gear to reduce the weight you carry is essential for any hiker to limit the stress on your neck and shoulders. To that end, the Nakie hammock is absolutely hiker friendly.
Plus, the hammock is super compact and small, similar in size to a packable down jacket, so you'll have no worries fitting it into your bag. Amazingly, the hammock stretches out to 3- x 1.8-metres, with a 225kg carrying capacity. This is all the more impressive given its tiny packable size. Indeed, if there was a perfect hammock for hiking, this is it!
So whether you're smashing out a half-day or multi-day affair, this hammock should be nestled somewhere comfortably in your bag, ready to be used at the opportune moment.
Maximise your hiking experience with a hammock
Chillin' in a hammock can help elevate your hiking experience to the next level.
With that in mind, what's the next hike to do on your bucket list? Maybe it's a coastal walk with sensational seaside lookouts, or a summit hike with sweeping mountainous views, or even just an easy frolic in picturesque woodlands. Either way, we're sure you'll have a great time, which can be made even better with a Nakie hammock. Taking a moment to enjoy the beauty of your surroundings and letting nature soothe your soul is easy to do when lyin' in a hammock.
You'd have to agree that the view is best when chillaxin' in a hammock.
This hammock helps you rest and relax
Whether you're mid-trail or at the end of your hike, relaxing in a hammock is a fantastic way to rest and recover from your adventure.
We all know that hiking can be tough work at times, so why not take the load off, and setup your Nakie hammock en-route, for a breather. You'll be surprised how quickly you can restore your energy from simply chillin' out in a hammock.
Even still, what better way to celebrate conquering a trail, than by de-stressing and recharging at the end of a hike. You can have a nap, read a book or enjoy a brew, all the while, resting those weary legs from your hiking shenanigans.
Of course, for those serious hikers, we know that you probably have another hike planned for the day. So you better get in a quick hammock session to get you feeling refreshed and ready for the next trail.
Who would have thought taking a hammock hiking would be such a great idea?

Nakie is the hiking hammock of choice
Taking your hammock hiking is always a wise decision. Although, choosing the right hammock can make or break your hiking adventure. Bulky and heavy gear will weigh you down and is the last thing you'll want when hiking.
So for the best hiking hammock, you can't go wrong with this extremely lightweight, compact and small hammock that'll fit easily in your bag. Take your outdoor experience to a whole new level of enjoyment, by using a Nakie hammock on your next hike, to truly relax, re-cooperate and soak in nature's wonderful vibes.