5 Things to Love about the Nakie Sand Free Beach Towels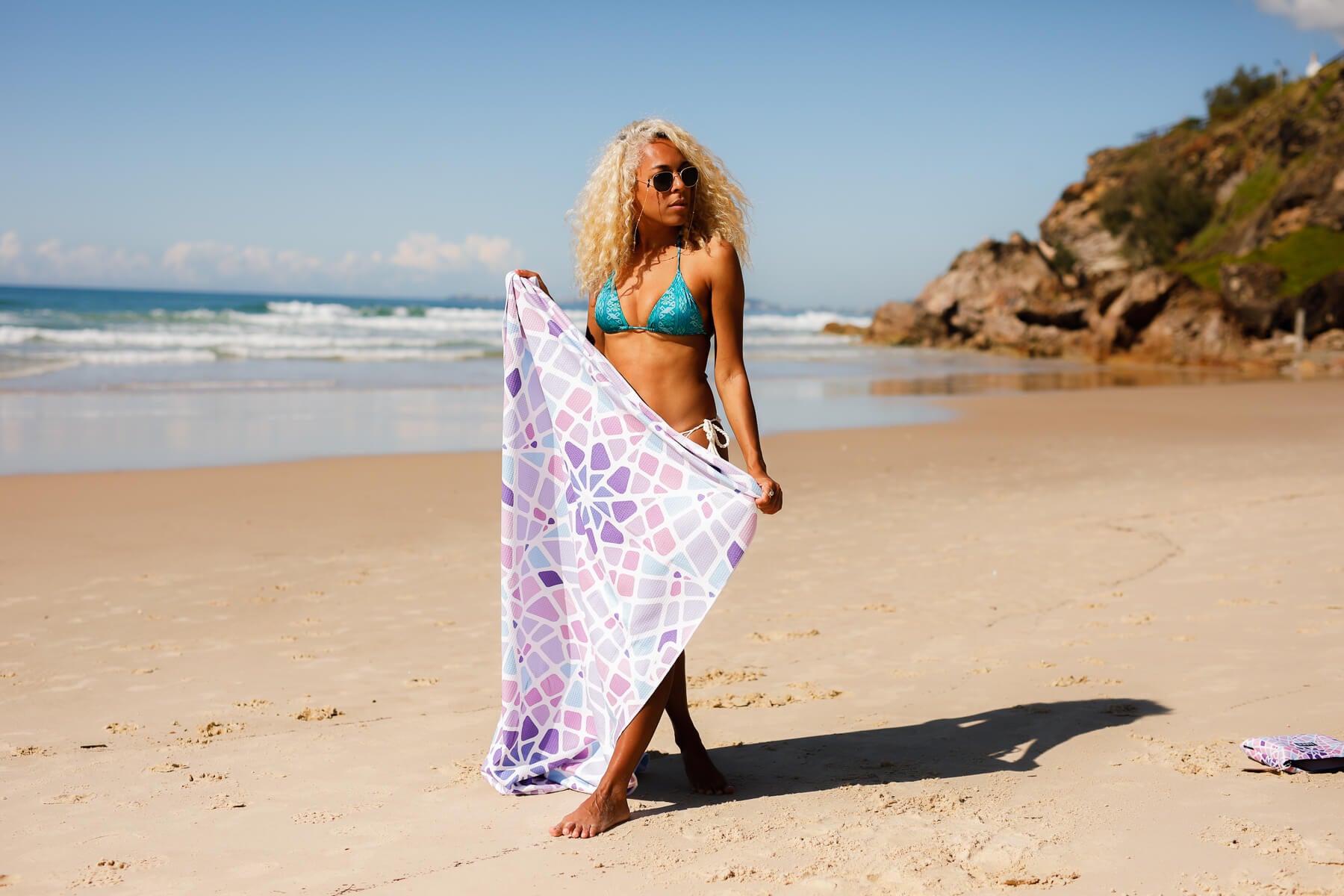 By: Jed Joyosa

Just as eggs go well with bacon, shoes with socks, and even coffee with cream – any beach trip wouldn't be complete without a blanket and a towel.
These are essentials and are almost always an instant need for when one gets out of the water.
Traditionally, beach goers often have this perfect combo with them.
The blanket is used for sunbathing or just lounging on the sand.
And the towel is used for drying themselves up after a good swim.
Both have unique functions that greatly satisfy the needs of avid beach goers.
However, bringing them separately on a vacation takes up so much space in the luggage.
A sin against one of the basic rules in backpacking - to pack and travel light.
But have you ever imagined these essentials to be combined in just one product?
As years went by, the need for more compact and dual-purpose gears arose.
Hence the birth of the ever-reliable beach towels.
While there have been a lot of companies that manufactured beach towels thereafter, the challenge to keep the innovation going, remains.
With Nakie's continuous efforts to actively turn plastic bottles into something more useful, the company has once again stepped up its game as they introduced the all-new recycled beach towels.
The pioneer products of Nakie, especially the hammocks and blankets, have garnered so much love and attention in the past few years.
They have remained to be some of the favorites all-year-round.
"The perfect gift ideas", as they even call them.
But the people's love goes beyond just what's available for them.
Our community has longed for more products that do not only serve them, but also the community.
Adding to the wide array of products made from recycled plastic bottles, these beach towels offer more than just what the typical towels and blankets do.
Here are 5 reasons why we know you would love the Nakie Beach Towel.

1. UNIQUELY PACKAGED
Who wouldn't be enticed by a good packaging, right? 
The excitement you get from receiving something so pleasing to the eyes.
And at the same time, you would also be intrigued if things could get any better than just having a great packaging.
Will the product inside be as beautiful?
Oh, the thoughts that come to your mind.
You'd get a little bit curious if it would satisfy your expectations.
Well, worry not because the Nakie Beach Towels are beautifully packed inside cute pouch bags.
That itself is a statement.
And it's not impossible for you to be head over heels even just for these bags alone.
It comes in 6 different colours which are all equally gorgeous.
These pouch bags are carefully designed to serve the purpose it was made for.
Since they are to be used at the beach, Nakie has made sure that they are waterproof!
This allows you to be less conscious of dropping it and getting it wet. 

2. LIGHTWEIGHT AND PORTABLE
As you further appreciate the gear from the outside, you'd eventually notice how easy it is to be carried around.
And although the towels are extra large when spread, it still requires no effort in handling since it is ultra-lightweight.
This is just one of the more important and notable features of the Nakie Beach Towels
Its dimensions are 160cm x 90cm and only weighs 740 grams.
It's truly something that a backpacker could take advantage of when packing for a trip.
With the bag's dimensions of 25cm x 20cm, you could easily squeeze it in the luggage and go!
From one advantage to another, the lightness of this gear offers portability.
Everyone would agree that one of the things we consider when buying stuff is its overall convenience.
Could we bring them anywhere we go?
A question that would most likely be present when choosing outdoor gears.
The last thing we all want is to be stressed about not being able to bring them with us.
Nakie Beach Towels are great to take with you on any adventure as they are super light and compact.
 3. SUPER ABSORBENT
The most exciting part begins in opening the pouch bag.
Voila!
First thing that you would notice is the matching print designs on the bag and the beach towel itself.
It is extra large so that you can lay down on it comfortably while taking in that much needed Vitamin D.
And of course, any beach trip wouldn't be complete without getting into the water.
You can't stay dry the whole time you're at the beach.
Go and play with the waves and just feel alive.
Don't worry because Nakie Beach Towels got your backs, people!
It is sure to dry you up after a good swim.
It's super absorbent!
And though it's thin, this beach towel could easily soak up the water from your skin.
Not only that, because you could use them as blankets for when you feel cold or something you can sit on when lounging on the sand.
 
4. SAND FREE
Since these towels are made specially for the beach, the sand is something unavoidable.
It is a given that whether you walk, you sit, or just stand by the beach, you're not safe from getting any sand.
This has been bothersome for a lot of people.
But Nakie has given a solution to this in the most fashionable way possible through the Nakie Sand Free Beach Towels.
Although when you use these beach towels, it can really be prone to getting a lot of sand inside.
However, the "sand-free" feature comes in when you simply shake it off.
It's magic!
You would see that the sand really does come off easily from the beach towel and that it looks clean and fresh again.

5. MADE FROM 28 RECYCLED PLASTIC BOTTLES
Of course, Nakie wouldn't be Nakie if it weren't for its main weapon – the art of recycling plastic bottles.
This has been the name of their game since forever.
Something that they have beautifully mastered and has developed even more.
The beach towels are the most recent addition to their products.
Each of them is made from 28 recycled plastic bottles. 
And although they're made from 100% post-consumer plastic bottles, you would still feel how soft and comfortable the fabric is.
The materialization of these Sand Free Beach Towels gets Nakie and the rest of the society a step closer to a greener and healthier environment.