How to Hang Your Nakie Hammock!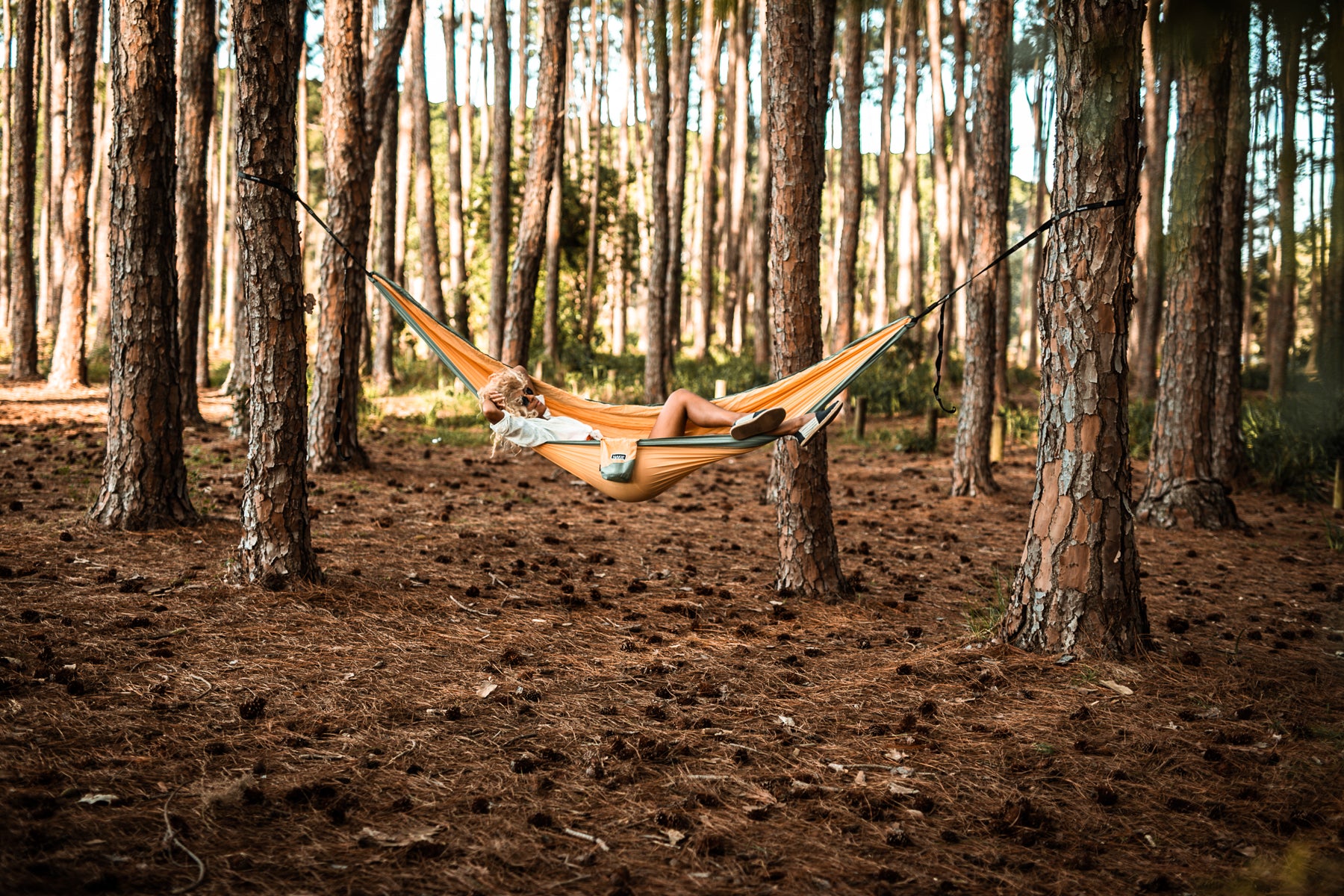 You wake up on a sunny Saturday morning and decide it's the perfect day to try out your new hammock! You fill your water bottle, pack some snacks, lace up your boots and head outdoors. You hike through the woods for some time until you finally land on a spot you'd like to set up your new hammock...now what?
Good news!

Setting up your hammock is so simple that after doing it two or three time's you'll realize you've had more trouble learning to tie your shoelaces than setting this up. The carabiner clips combined with the reinforced straps make setup as easy as 1-2-3!
1. loop each strap around a tree and through itself at the same height as your head.
2. clip each end of the hammock onto one of the many loops available on each strap.
3. lay in the hammock to test comfort, then adjust the clips as desired
Looking to hang loose and chill?

Then we suggest the middle of the hammock hangs at about hip level, while the ends hang at about head level. Think banana. And if you lay diagonally your head will be supported, allowing you to look around or read a book in comfort without the fabric getting in the way.
Ready for a nap?

Consider hanging the hammock a little tighter. This will cause the sides of the hammock to rise up, creating a cozy cocoon environment allowing you to doze off. Keep in mind that a tighter hammock takes a little more effort to get in and out of but once you're in, it's worth it.
Hanging with friends?

Remember that your hammock can always be used as a seat! This is great if you're hanging around the fire while passing around snacks and sharing spooky ghost stories from your childhood.
Did your friend bring a hammock too?

Then find 3 trees in a triangle. Attach both hammocks to the same tree and the other end to different trees. This creates a more intimate hang as you can now hold hands, pass snacks, and gently rock each other with a soft push now and again.
Once your hammock is set up, the pouch it comes in can now be used to hold your phone, sunglasses, snacks, or water bottle so there's no need to get up anytime soon. All there is left to do now is kick up your feet and enjoy the view.
Finally.

As you're lounging in your new hammock, looking up through the canopy at the bright blue sky while swaying in the gentle breeze, you can't help but wonder, "why'd I wait so long to get one?!"