Swing In Comfort –– Improve Your Sleep with a Nakie Hammock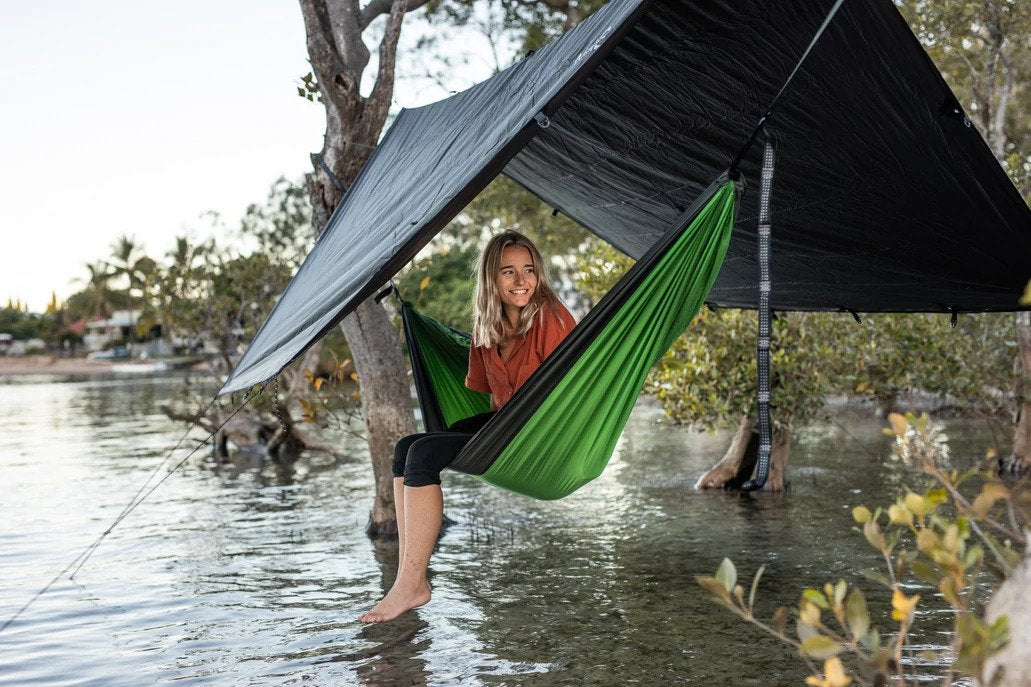 By: Jed Joyosa


Breathe in. Breathe out. Undeniably, life is hard. People are often confronted with the difficulties of merely just living. We get fed up with the noise in the city, all the pressure from work, or even the complications from technology, which is totally normal. Those things make it so challenging for us to just get through the toughest of weeks. But no matter how hard life gets, we must never cease to enjoy and have fun, as we should. After all, we just want to end every tiring day with a good night's sleep.
 In the pursuit of finding peace and escape from the hustle and bustle, many of us like to disconnect from all the distractions and simply connect back with nature, thus the idea of going camping. Just the thought of it already gives the excitement of being able to enjoy so much freedom outdoors with a lot of different activities to choose from, like building a fire, pitching tents, reading the compass, or simply enjoying the view from your own hammocks until you fall asleep. The fun doesn't stop there because waking up to a great view in your own rocking hammocks is such a treat. These things are definitely a dream for a lot of people too, but did you know that these hammocks could improve your sleep?
 A study in 2011 explored how the gentle rocking motion of hammocks helps people fall asleep faster. An experiment was done on 12 healthy adults who were asked to take a nap in a custom-made bed that can gently rock like a hammock. These people had a 45-minute nap while it was stationary and another 45-minute nap when the bed was in motion. While monitoring each participant's brain activity through an Electroencephalography (EEG), researchers found out that the participants did not only fall asleep faster but, their nature of sleep was also changed due to this hammock-like bed's gentle rocking motion. Researchers say that the rocking motion may facilitate internal sleep rhythms that help people have a deeper sleep. Also, the calming feeling people get from hammocks promotes overall relaxation.
 Sleeping in a hammock does not only improve the quality of your sleep. It offers a lot of other benefits. One of which is giving relief to pressure points that bother you when sleeping in ordinary and low-quality mattresses. It is said that hammocks relieve pressure on areas like the shoulders, back, and butt because their surface is more flexible, therefore distributing pressure on all parts of the body. It molds to the natural curves your body has.
 Another benefit of sleeping in a hammock is having lesser exposure to insects like bugs and mosquitoes. In camping, we usually care less about where we'll sleep. However, it is inevitable that we sometimes wake up with a lot of insect bites. And although it is part of the experience, we still want to enjoy every moment of the trip without having to worry about getting bitten by insects. Nakie hammocks will make it impossible for bugs to visit you in your sleep, especially when paired with other Nakie products like rain tarps or bug nets. Alongside this benefit is the convenience of not having to sleep on the floor or dirty mattresses where you could get dust mites.
 And the list goes on, but one of the most notable things about sleeping in a hammock is its benefit to people with Insomnia. Those with this kind of disorder know the struggle of putting themselves to sleep night after night. When you thought you'd exhausted every possible way to sleep and you still couldn't do it. You've already tried downloading games on your phone, reading books, listening to music, or even talking to a friend, not knowing that all you might need to have a good and sound sleep is a cozy hammock to sleep in. Pieces of evidence say that hammocks can help treat people with Insomnia because it gives a safe and relaxing feeling of sleeping in a womb which seems more natural than just doing it elsewhere.
 Hammocks really are heaven-sent with all the benefits you could get from using them. However, it is important to note that these benefits are also just anecdotal. People are advised to seek professional opinions when planning to use hammocks full-time to thoroughly understand their long-term effects.
 Nonetheless, there's nothing more thrilling than being able to go on an adventure that will give you a great sense of freedom from all your worries. It is an adventure where you could be one with the environment and just forget about everything for a while. It is said that the tranquility of nature nurses our mental well-being. And so, going on camping lets you appreciate serenity in its purest form. Some people even get to revitalize their relationships on trips like these because of the chance to bond in a place where there's no signal or wifi. You get to maximize the potential of every living being in the surroundings and your friends' or families' company. Imagine being able to witness sunrises and sunsets every day at the comfort of your hammocks while listening to some good old music 'till you doze off.
 Nakie aims to encourage active involvement from all of us to help save and restore the beauty of the planet. Their initiatives in manufacturing products made from recycled plastic bottles go beyond their function as a small business. It is a call to action, and this will only be possible if we put in our collective efforts. We are the future of this world, and now is our time to take responsibility.
 The promise of a better world is something so beautiful that we can hold onto it because it is really something possible. All it takes is for us to care a little bit more, and the rest will follow. Ultimately, our goal here in life is to do what we want, to appreciate everything we have, to love other people unconditionally, to be kind to one another, and to basically just live life. And what better way to celebrate life than going camping with your Nakie hammocks –– allowing yourself to swing in comfort.