From plastic bottles to puffy blankets, a warm refuge for those sleeping rough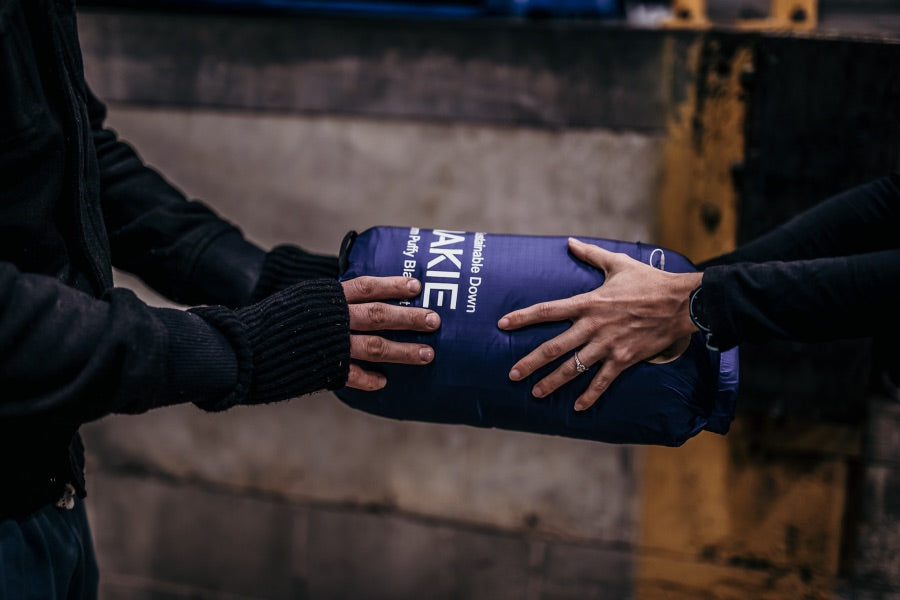 Family-owned sustainable outdoor brand, Nakie, has partnered together with St Vincent de Paul in the lead up to Homelessness Week to donate 1500 lightweight blankets to those sleeping rough across Australia.


Each waterproof, sustainable blanket weighs just 750 grams and is comprised of 54 recycled plastic bottles, meaning that Nakie's donation to Vinnies is giving 1500 people experiencing homelessness a warm refuge while saving 81,000 bottles from entering our waterways.
Nakie co-founder Tegan Gilroy said that Nakie products are already having a large influence on sustainability at a global scale but developing that impact further right here in their own home is what struck interest to collaborate with St Vincent de Paul.


"For us, a partnership with Vinnies just made sense; our values aligned so well, and we love that we can directly engage in the act of giving," Ms Gilroy said.
"We're committed to an ongoing strategic partnership with Vinnies, with plans to donate 1500 blankets annually."
This month, 1500 blankets will be delivered to St Vincent de Paul locations across eight Australian states and territories in accordance with local demands.
Following the May Federal budget's failure to address Australia's housing shortage and homelessness crisis, donations like Nakie's are paramount to support those sleeping rough on our streets.
St Vincent de Paul Society National President, Claire Victory said that the St Vincent de Paul Society are always looking for donations of goods like blankets for the simple fact they help keep people warm.
"The St Vincent de Paul Society is very grateful to Nakie for its donation of 1500 blankets," said Ms Victory.
"For someone who is experiencing homelessness or at risk of homelessness, particularly for rough sleepers, a blanket can be a vital lifeline, particularly during these winter months."


Each blanket weighs only 780 grams and is designed to be water-resistant, compact and is easily stored in a small carry bag.
The eco-focussed company produce blankets, hammocks, bug nets and tarps 100% fabricated from post-consumer recycled plastic bottles.
For every blanket purchased in the month of August, Nakie are donating another to someone struggling with homelessness. Support St Vincent de Paul by purchasing from Nakie here.
About Nakie
Nakie is a Brisbane based, family-owned sustainable outdoor brand, working to contribute to sustainable living and reducing carbon emissions. The company's vision is to educate people to be more aware of what their habits can do and how they can impact the environment by advocating for living the 'simple life'. Each Nakie product purchased donates four trees to be planted by local villagers in northwest Madagascar. To date, Nakie have planted 132,504 trees. For more information, visit https://www.nakie.co
About St Vincent de Paul
The St Vincent de Paul Society aspires to be recognised as a caring Catholic charity offering "a hand up" to people in need. Vinnies do this by respecting their dignity, sharing hope, and encouraging them to take control of their own destiny. Ultimately, their vision is an Australia transformed by compassion and built on justice. The Society advocates on several pressing social justice issues such as homelessness, poverty and asylum seekers. To read more about the Society's work is these areas and others please visit the Our Impact section.